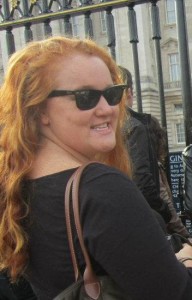 Bryn Mawr senior Mairin O'Connor won a prestigious nation-wide college essay contest organized by the AATI (American Association of Teachers of Italian) among undergraduate students of Italian in North America.
Mairin's comparative essay "The Role of the Failed Detective in Friedrich Dürrenmatt's The Pledge and Leonardo Sciascia's To Each His Own," written for the course "Italian popular fiction: Il giallo" (ITAL310/COML310), taught by Dr. Giuliana Perco, won the award for best college essay written in English on an Italian topic.
The award ceremony will take place at the AATI annual conference, held this year in Philadelphia at the Pennsylvania Convention Centre (November 16-18).
The AATI awards commitee included Prof. Lorenzo Borgotallo (Clemson University), Prof. Sarah Carey (Stanford University), and Prof. Ernesto Livorni (University of Wisconsin-Madison).
Mairin O'Connor, an Italian Major and International Studies Minor, is a student representative for the Department of Italian at Bryn Mawr College. Last April, Mairin was awarded the Hester Ann Corner Prize for Distinction in Literature-Foreign Language.
Congratulations, Mairin!