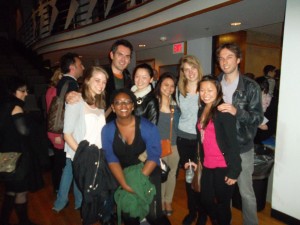 On Friday March 16th, Bryn Mawr students and faculty from multiple departments were present for the screening of  the award winning film, "Italy, Love It or Leave It!". The question hinted at in the title is explored by directors Luca Ragazzi and Gustav Hofer, as they struggle to decide whether to stay in or depart from their beloved country of Italy. The film masterfully covers the ups and downs of Italian views on politics, regionalism, immigration and labor policy, unemployment, sexuality, food, and history, among other topics.
During the Q and A session and also in the lobby, students were able to speak with the directors and gain more insight on their work. The film, presented by PI-Philly, Professionisti Italiani a Philadelphia (Italian Professionals in Philadelphia), was both well attended and well received by the audience.
Interested in learning more about the film? HERE is the link to the official website.